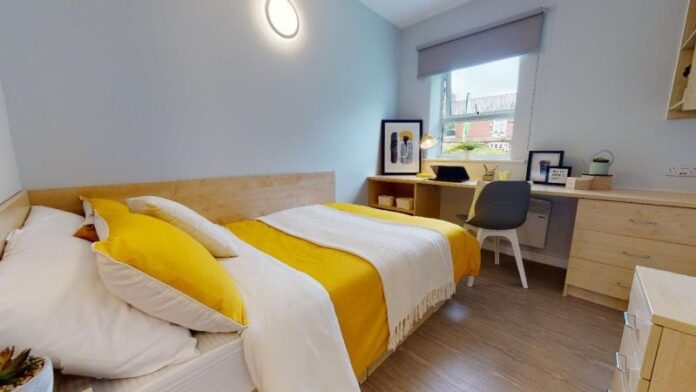 Are you a student in Salford who is looking for housing? You're in luck! This guide will tell you everything you need to know about student housing options in Salford. We'll discuss the different types of student accommodation available, as well as the pros and cons of each option. So whether you're looking for student halls, private housing, or shared accommodation, this guide has got you covered!
Why get a student house in Salford?
At first glance, Salford may not seem like the ideal student housing destination. With a reputation for being gritty and industrial, many students may be hesitant to live there. However, Salford has plenty to offer when it comes to student housing options.
What types of accommodation are there?
There are several different types of student accommodation available in Salford, including student halls, private rentals, and shared flats. Each option brings its own set of advantages and disadvantages depending on your needs and budget. Let's take a closer look at each one:
What are student halls?
Student halls are typically managed by universities or colleges, offering affordable accommodation with limited flexibility in terms of moving out or changing rooms. If you're looking for an affordable and convenient housing option that allows you to live in close proximity to other students, student halls may be the right choice for you.
What are private rentals?
Private rentals are another housing option available in Salford. This can include single-family homes or apartments that are rented by individual tenants. Private rentals tend to offer more flexibility than student halls and are typically cheaper than other types of student accommodation, depending on the location and size of the property. However, they do require more effort on your part when it comes to finding a suitable place and negotiating lease terms with a landlord or property management company.
What are shared flats?
Finally, shared flats are another popular student housing option in Salford. These accommodations typically consist of one or more bedrooms that share common living areas such as a kitchen or living room with other tenants. Like student halls and private rentals, shared flats offer an affordable housing option that can be a good choice for students on a budget. However, they often require more effort to find the right flatmates and create a comfortable living space within your budget.
If you have any unanswered questions about student housing in Salford, don't worry! We've got you covered. Below are some of the most commonly asked questions about student accommodation in Salford, along with answers from our team of experts.
Q: I'm a student at Salford University. Are student halls available on-campus?
A: Yes, student halls are available on-campus at Salford University. However, availability may be limited so it's important to apply as early as possible.
Q: What are the benefits of student halls?
A: Student halls offer a number of benefits, including affordable rent, proximity to other students, and convenience. They are also often managed by universities or colleges, which can be helpful if you need assistance with anything during your stay.
Q: What are the disadvantages of student halls?
A: One disadvantage of student halls is that they can be restrictive in terms of moving out or changing rooms. Additionally, they may not be available for students who attend schools other than the university or college managing the halls.
Ultimately, the best type of student accommodation in Salford will depend on your individual needs and preferences. Whether you're looking for convenience, affordability, flexibility, or some combination of these factors, there is sure to be an ideal student housing option for you in Salford!
For more information on student housing in Salford, check out Student Haus.