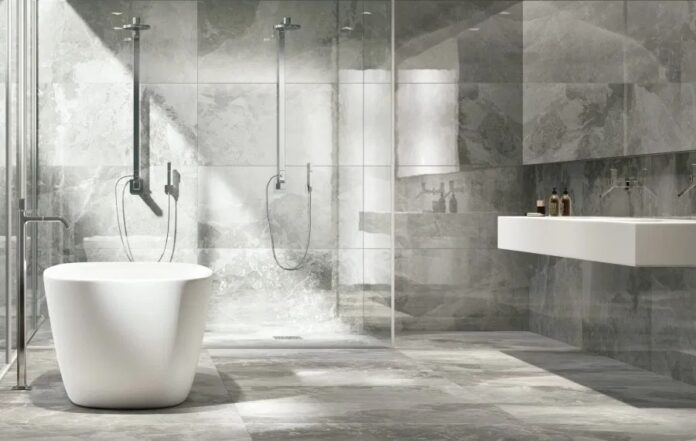 Porcelain tiles are the most wonderful options to renovate the interiors and exteriors of a house. In fact, they are one of the most economical options that can be used for floors as well as walls. So, whether you're planning to use them for interiors or exteriors, you need to know certain things about the best kinds of tiles at elite tile designers like Club Ceramic. Have a look!
Types of Porcelain Tiles
Variety is one of the biggest reasons behind the popularity of porcelain tiles. Based upon their finish, they are of the following 4 types.
#1. Unglazed Porcelain Tiles
These are best used as floor tiles and outdoor tiles since they are very hard and dense. Thus, unglazed porcelain tiles:
Are used in bathrooms since they are non slippery.

They offer a better grip than many other types of tiles.
#2. Glazed Porcelain Tiles
These are best used for walls and are perfect indoor tiles due to the following reasons.
These bright tiles are usually UV resistant. 

They are scratch and stain resistant.

It's very easy to clean these tiles with water. 
#3. Full Body Porcelain Tiles
These are deep pigmented designer porcelain tiles that offer the following benefits.
They are abrasion resistant. Hence, they can last for decades when cared for.

They are highly impact resistant.

They have one of the highest slip resistance ratio amongst other types of porcelain tiles.
#4. Digitally Printed Porcelain Tiles
One of the most stunning porcelain tiles, these allow digital prints to be photographed on the surface. As a result:
They are highly customisable.

They are aesthetically and visually stunning.

They are the best options for living room decor.
Qualities of Porcelain Tiles
Porcelain tiles are the best kinds of ceramic tiles because of the following reasons.
They are fire resistant options.

They are easy to install and uninstall.

They are highly resistant against stains.

Regular cleaning with water can let them last for decades.
Patterns of Porcelain Tiles
Tile designers at firms like Club Ceramic have come up with some wonderful patterns as listed below. 
3D Porcelain Tiles
Oval white

Lavish white

Circle white
Designer Porcelain Tiles
Hestis grey

Venezuela marble

Gesto grey

Drift empara

Ikara empara

Pidas Onyx
Wooden Strips Porcelain Tiles
Elvis black

Elvis grey

Palomino Grey

Chary crema

Chary wenge
Subway Porcelain Tiles
White wave

Ivory wave

Black

Orange

Grey

Alpine blue
All in all, high quality porcelain tiles at Club Ceramic are the best options to renovate the soundproofing walls and floors of your house without compromising the quality.