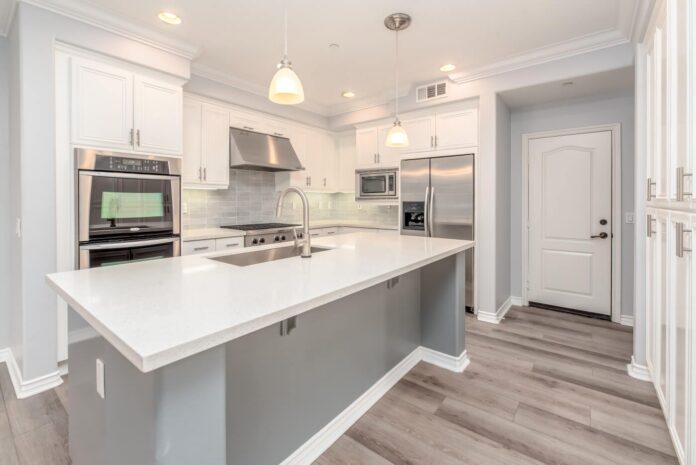 When it comes to renovating your kitchen, you might not always need a full overhaul. Sometimes, upgrading the cabinets can make a huge difference in the appearance and functionality of your space. However, what if your countertops are in good shape and you don't want to change them? 
In this article, we'll explore how you can replace kitchen cabinets without replacing countertops.
Assess the Situation
Before diving in, take the time to assess your kitchen. Determine the state of your current cabinets and whether they require full replacement or just a facelift. Check your countertops too; they should be sturdy and in good condition to withstand the cabinet replacement process.
Choosing the Right Cabinets
When selecting new cabinets, keep in mind the style and color scheme of your existing countertops. Your cabinets should complement them, not clash. It's also a good idea to measure the space accurately to ensure that the new cabinets will fit perfectly underneath your countertops.
The Removal Process
Detaching Cabinets Carefully
The key to replacing cabinets without damaging countertops is to detach them very carefully. This usually involves unscrewing them from the wall and from underneath the countertop. It's a delicate process, and you might want to consider hiring a professional to ensure that nothing gets damaged.
Supporting the Countertop
As you remove the cabinets, it's essential to provide support to the countertop to prevent it from cracking or breaking. Use a combination of 2x4s and plywood to create a temporary support structure.
Installing the New Cabinets
Once the old cabinets are out, it's time to install the new ones.
Aligning and Securing
Start by aligning the new cabinets with the countertops. This step is crucial to ensure that the final look is cohesive and polished. Once everything is aligned, secure the cabinets to the wall and beneath the countertop.
Finishing Touches
After the cabinets are secured, add finishing touches like knobs and pulls. Don't forget to remove the temporary supports from the countertops and clean the area.
Replacing kitchen cabinets without replacing countertops can be a bit tricky, but with the right planning, careful removal, and precise installation, you can give your kitchen a stunning makeover without the need for a complete renovation. This approach not only saves you money but also preserves the elements you love about your kitchen while upgrading those that need a fresh look.
Publisher's Details
:
Adar Builders Inc
7659 Louise Ave, Los Angeles, CA 91325
(866) 308-3359
adarbuilders.com
info@adarbuilders.com
Adar Builders takes pride in offering the finest home remodeling services in North Hollywood, CA, Santa Clarita, CA, and all other cities within Los Angeles County. With a team of experienced professionals, they are dedicated to providing exceptional remodeling services that consistently surpass client expectations. Their commitment to excellence is evident in their exceptional craftsmanship and unwavering attention to detail, ensuring that every remodeling project is executed to perfection.